DISCLAIMER: THE 30-DAY BOOK CHALLENGE IS CREATED BY PROFESSIONAL BOOK NERDS. I'M MERELY RESPONDING TO THEIR PROMPTS FOR MY OWN WRITING CHALLENGE.
There is no other book more haunting to me than Harry Potter and The Order of the Phoenix.
When Sirius disappeared behind the curtain and wouldn't answer Harry's calls, I bawled not unlike Luffy when he cried for Ace (that scene also made me cry btw).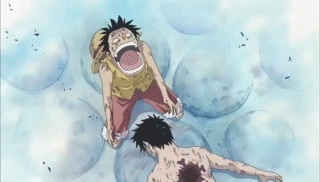 If you read the novel, you'd know that what comes after – the talk with Dumbledore and the realization that Sirius isn't going to return – hurts more. You empathize with Harry as he destroys the headmaster's trinkets. You even have the urge to hurl the book across the room- at least I did and still do every time I reread the book.
Then you'll start thinking, crap, there are two books left in the series. How is Harry going to survive this? But he does survive through the pain. In the end, he's still the boy who lived. And that reassures you that you can also move on from this tragedy.
Except it doesn't reassure you at all.
Because unlike Harry whose story ends in The Deathly Hallows (or Cursed Child), you will have another opportunity to meet Sirius once you read The Prisoner of Azkaban, witness his frustration in The Goblet of Fire, and watch him sacrifice himself for the order in The Order of the Phoenix.
You can either skip the book or write several fanfictions but it just won't be the same.