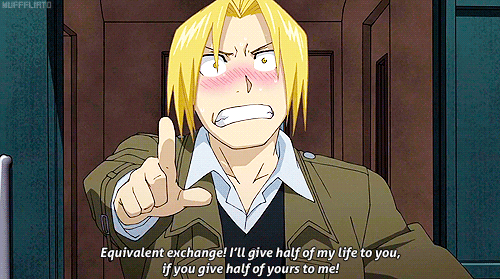 Still by far the best confession in anime lol (gif is not mine btw). I have just finished Fullmetal Alchemist: Brotherhood (鋼の錬金術師, はがねのれんきんじゅつし) and arrived at a conclusion that Japanese animation is the best way to get over dramas.
This month, I have a couple of articles I highly enjoyed reading |discussing with a couple of friends.
How the Busiest People Plan their Days 
In a work-shift where one can only get 5-10 minute breaks every hour, it is normal to hear complaints like "I don't even have time to pee!" or "I'm so tired." I blink and I read some pages of a book, or add more words to my piece, learn a Japanese word, drink coffee and sacrifice socialization.
A Pioneering Scientist on Memory, the Value of Our Unremembered Work, and the Incalculable Sum Total of the Human Experience
It's not surprising that this makes it to my list given my growing affection for the concept of alchemy presented in Fullmetal Alchemist.
Ikigai: A Japanese Concept to Improve Work and Life
Somehow, this concept reinforces the idea in the first article.
It was a wish granted by my parents when I was recuperating from appendectomy. I felt like a child again.
Why do Workplace Dress Codes Persist
Working in a performance-based company has taught me that clothes dress code does not have an adverse effect on how one does well at work.
The Greatest Threats to Humanity as We know it
Ignorance is not included but the list makes sense.
Terry Pratchett's unpublished works crushed by steamroller
I haven't read any Pratchett's work — I know that is a shame — but I admire the fact that he had been prolific before dying two years ago. However, I think using a steamroller is way too dramatic to obliterate one's work from the face of the planet.
This list might appear scanty but it's because I have managed to read a couple of books this month and even write quick reviews for them (here and here). 'Til next month.